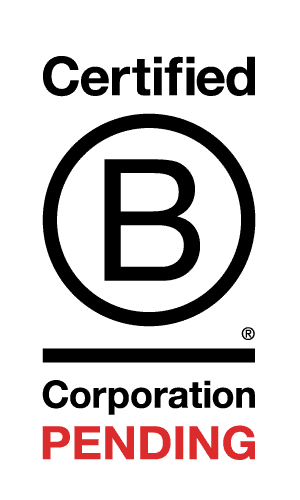 B Corp Certified businesses meet the highest standard of verified social and environmental performance, public transparency and legal accountability to balance purpose and profits.
B Corp Pending Status is aimed at companies in their early stages to signal to stakeholders that they are on track to become certified B Corp within the next twelve months. You still have to go through the rigorous 'B Impact Assessment' which is circa 200 questions to ensure you meet the high standard B Corp set. So this is the first official step, and a big milestone, to becoming a B Corp Certified business and we couldn't be more proud to be making this step in our journey.
Why WeEngage intend on becoming B Corp
We're in an industry that sadly has a negative perception across the board, notorious for prioritising profit, with most companies claiming they are different. Unfortunately, very few can genuinely prove they are.
By committing to become B Corp, we are aware of the impact our decisions have, not only on everyone who joins WeEngage but also on our community, our suppliers and the environment.
From the inception of WeEngage, giving back has been ingrained into our DNA and we believe that recruitment can be more than just helping individuals secure talent. Our mission is to create the most impactful headhunting agency on the planet. Changing the lives of our candidates, supporting our local community, and causing no unnecessary harm to the environment.
We are creating a meaningful business where people, diversity, sustainability, & purpose are deeply rooted in our foundations which will allow us to have a lasting legacy, beyond profit. Achieving this is something we are extremely determined to do, with profit not only being the main metric for success.
In the past 12 months, we have…
Donated 1% of our profits to the local food bank in Wimbledon
Sponsored a grassroots football team
Supported candidates in their job search to join incredible pioneering CleanTech and HealthTech businesses that have a HUGE impact on our world, and society!
Moved to green cloud providers for our infrastructure to reduce harm to the planet
Secured offices on London's first ultra-low emission street
Planted over 2,125 trees through Ecologi
48.18 tonnes of CO2e is equivalent to 119,000 miles in a car!
We are excited and proud to achieve this milestone and are fully committed to creating our business as a force for good!
We look forward to you joining us on this journey to becoming a Certified B Corp soon ?
Tom & Dylan